Delivering high quality HEOR solutions that enhance the quality and practicality of clinical data collection and management
Case Study 1
Interactive Online Tool for IVI-NSCLC
Background
The IVI-NSCLC model is an open-source simulation model that decision-makers can use to assess the value of different sequences of treatment of non-small cell lung cancer (NSCLC). Specifically, the IVI-NSCLC model provides information on expected health benefits, risks and costs for patients with EGFR+ NSCLC.
The model is OpenSource and is being distributed in the form of R package.
Objective
Create an online interactive tool that would allow experienced users and those without expertise to efficiently run an analysis using IVI-NSCLC package.
Solution
ClarityViz has developed an easy-to-use web-based interface that enables healthcare decision-makers to use the IVI-NSCLC model without any R knowledge. Two versions of the IVI-NSCLC Value Tool are available. The Basic interface is designed to provide a streamlined experience for general audience users with limited expertise. The Advanced interface is designed for users with clinical or technical expertise and provides complete control over all modeling.
Features
All inputs and outputs are organized into categories for easy navigation.
The interface allows user to modify various model inputs and see how it affects the simulation outcomes.
Simulation time depends on various parameters like number of patients and PSA iterations, but generally doesn't take more than a few minutes.
The web tool has a simulation time prediction algorithm, which gives user a good idea on the progress during big simulations.
The high performance of the tool mostly comes from several factors: efficiency of its code, multiple optimizations in R package and use of hi-end servers.
Some parameters like MCDA can be adjusted on the fly without need to re-run the simulation.
Advanced users can see the R code generated by the tool to run the simulation. This enables them to verify it or run in a local environment.
Upon completion of the analysis user is able to save his progress, by generating a permanent link. This link can be shared with others and used to review or continue the analysis.
Case Study 2
BUGSnet Virtual Environments
Background
BUGSnet is a feature-rich R package to conduct high-quality Bayesian NMA analyses and facilitate compliance with best practice guidelines and reporting. Bayesian analyses are conducted with JAGS (BUGS code is automatically generated by the package based on the user's inputs.) Outputs are highly customizable and include network plots, tables of network characteristics, data plots, league tables and league heat plots, SUCRA plots, rankograms, forest plots, leverage plots, traceplots and posterior mean deviance comparison plots.
The package has been developed by Béliveau A., Boyne D., Slater J., Brenner D. and Arora P. and is being distributed under Creative Commons Attribution-NonCommercial-ShareAlike 4.0 International License (CC BY-NC-SA 4.0). The commercial license can be obtained from Lighthouse Outcomes.
Objective
Develop a software solution that would allow easy access to R environment with BUGSnet package installed for academic, demonstration and commercial purposes. This would enable academics to easily evaluate the package without investing time and resources in environment setup. This is important because the package has multiple dependencies and rather high hardware requirements. Therefore the user would have to spend a significant amount of time installing dependencies and provisioning resources before being able to see if BUGSnet is actually worth it.
Solution
The solution implemented by ClarityViz is based on industry's best practices and completes the project objective in a cost-efficient way.
Features
An interested party can request access through a web interface.
Once request has been approved it only takes a few minutes for a new user environment to become available.
Upon its readiness, the environment URL and credentials are emailed to the user.
The environment is based on the Rstudio Server and should be familiar to any person working with R.
The workspace has BUGSnet and all packages required for NMA already installed. This way the user can start using BUGSnet right away, without installing any software on his/her computer.
The files can be uploaded and downloaded as needed, e.g. scripts, data sets, results, etc.
All user environments are completely isolated from each other. The traffic between the user's browser and the environment is TLS-encrypted.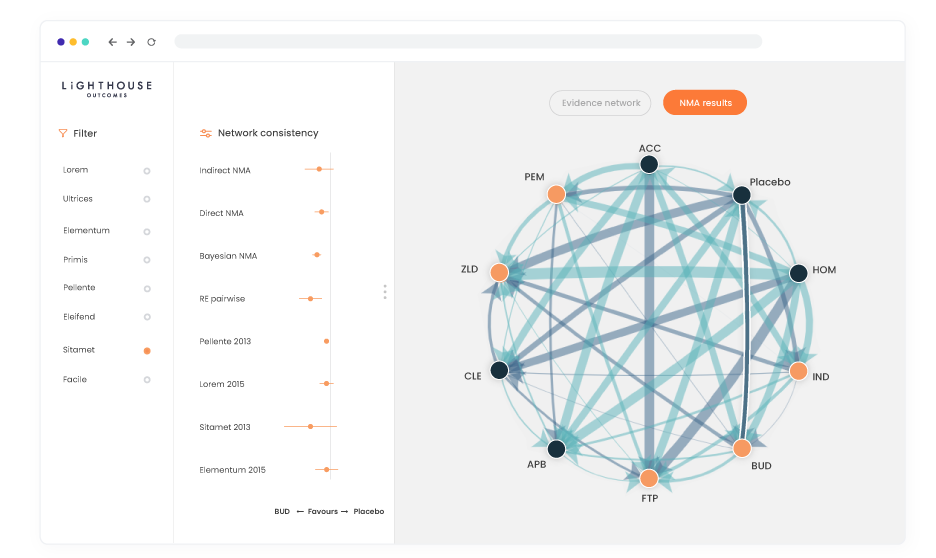 Béliveau A., Boyne D., Slater J., Brenner D. and Arora P. (2019). BUGSnet: an R package to facilitate the conduct and reporting of Bayesian network Meta-analyses. BMC Medical Research Methodology, 19(196). View
Case Study 3
BeyondSpring ePRO
Objective
Develop a mobile application to collect patient reported outcomes for a clinical trial in China and Ukraine investigating the severity of bone pain in patients taking a particular combination of medications.
Success
A fully validated ePRO tool that meets Chinese and Ukrainian regulatory requirements.
Delivery Mode
A cross platform app which runs on multiple devices.
Features
Push notifications hub
Audit trail functionality
Monitoring services
Study management portal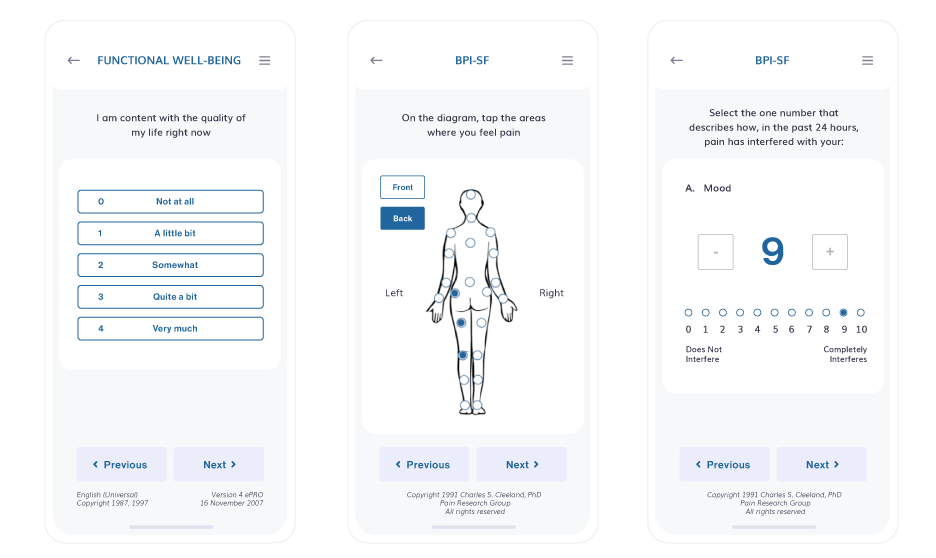 The CCSC Research Unit is part of the Forzani and MacPhail Colon Cancer Screening Centre (CCSC), the only publicly funded facility dedicated to colon cancer screening in Canada. The CCSC offers comprehensive care, with a focus on screening and early detection of colon cancer.
The aim of the CCSC Research Unit is to seek more effective colon cancer prevention and screening services and reduce colon cancer incidence and mortality.
The CCSC Research Unit has an ongoing research study which requires tracking participants across different stages:
Study candidate enrolment
Researcher confirms candidate eligibility
Participant fills out study consent form
Participant completes screening test for colon cancer
Participant completes a Health and Lifestyle Questionnaire
The study is implemented in the REDCap (Research Electronic Data Capture) platform.
REDCap is a secure web application for building and managing online surveys and databases. It provides a robust and reliable data collection platform compliant with all the international data protection standards. It also offers a functional graphical interface for creating and maintaining users, as well as a basic user data entry platform.
The CCSC Research Unit has identified the user interfaces of the current study enrolment portal and the HLQ form as possible reasons limiting the study adherence and compliance.
The researchers find the current REDCap administrator interface difficult to use. The interface customization options are very limited and not suitable for their needs. Specific examples include not being able to access the project status overview, check the coordinators' required actions or participants' stage.
Develop a new study portal for user data entry
The research team found the user data entry interface to be a limitation for participants enrolment. By implementing a more user-friendly data entry web application, they expect to appeal to a higher number of participants and also reduce the forms abandonment rate.
Develop a researcher study control dashboard
The new dashboard application will provide an improved administrator interface to track the different study stages and data points of the enrolled participants.
Both applications must be cross-browser compatible as they will be accessed from installation-restricted systems that don't allow choice of browser.
Study Portal
Improved user experience. The new study portal offers a cleaner and simpler interface to register the participants data. It includes an improved answer validation system and custom feedback messages.
Surveys are rendered directly from REDCap, which allows administrators to modify the survey question structure if required.
Data is always stored in REDCap to comply with data privacy and security regulations.
Dashboard
The dashboard includes all the metrics required by the client and reflects all the different stages of the study.
The main features are:
Secure access based on existing REDCap permissions
User activity logs
Real time enrolment statistics
Participant eligibility evaluation
Coordinator notifications for required actions
Participant email reminders and notifications
Direct data export