Secure In-house Server
& R Hosting
ClarityViz makes it possible to have interactive, analytic, R interfaces without the need of a third-party host. All solutions are hosted and run internally on secure Canadian based servers, with individually configured IT infrastructures for specific needs and security policies.
Secure
Our Advanced Encryption Standard (AES), delivers end-to-end data-centric encryption security to protect your information across all platforms. All solutions are hosted securely and safely in a private compartmentalized virtual cloud with rigorous multi factor authorization.
Compliant
ClarityViz's systems are consistently updated with the latest international regulatory requirements and compliance standards. Our solutions are Title 21 CFR Part 11 and H.I.P.A. compliant, and observe Canadian PIPEDA regulations.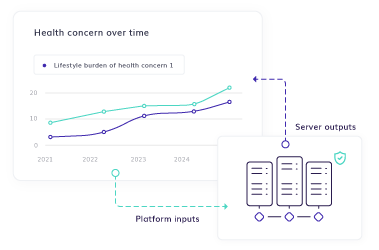 How It Works
From database to interface
Models and data are presented on a platform accessible by a web browser or app.
Calculations performed on the platform are done using open-source R modelling, which is run on secure, Canadian hosted cloud servers.
Information and tool calculations are securely returned from the server to the platform, via an advanced encryption system.
Permissions
Control who views, edits, and shares study and patient data with the use of extensive permission-based access control. Equip only high-level accounts with access to specific sensitive data and actions.
Multi-factor authentication
Increase the security of sensitive information and prevent unauthorized access to studies with multi-factor authentications and logins.
Continuous auditing
Manage and track changes in patient and study data with extensive audit logging systems. Uphold compliant data management and prevent user error with real-time data input validations.
Our Platform
ClarityViz vs Shiny
Pros of ClarityViz's platform
App design is independent from R calculations. R code is isolated from visualizations
Unlimited design layout choices and content
Multipage applications
Sleek and modern looking
Powerful dedicated R Server to generate plotting data
Cheaper hosting than Shiny
Easier database interaction. Option to save simulations and display previously calculated results
Robust code base. Better code structure and testing
User authentication
Shiny requires a shiny server pro license for authentication, and users can only be added through the backend.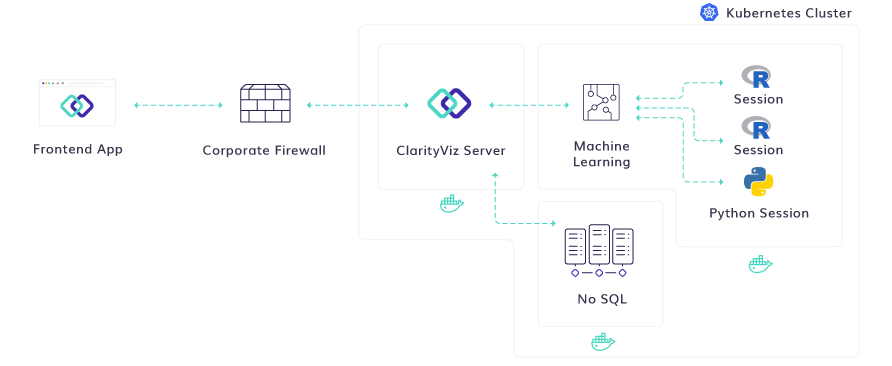 R Environments
Pre-configured RStudio environments on-demand
Short startup time
The environment can be ready within minutes from submitting a request.
Performance
We use high-end servers and 10Gbps internet access to provide blazing-fast performance. There are multiple plans available varying in number of CPU cores and RAM allocated.
Familiar tools
The environment is based on the Rstudio Server and should be familiar to any person working with R.
Customizable
Before launching the environment, the user can select popular packages to be pre-installed. This way, once the environment is ready the user doesn't have to spend extra time on setup.
Secure
All user environments are completely isolated from each other
The traffic between the user's browser and the environment is TLS-encrypted
Data is securely stored in SOC2 Type 2 and ISO/IEC 27001:2013 certified data centre in Canada
An audit of users' actions is also available Optional feature*
File access
Files can be uploaded and downloaded as needed, e.g. scripts, data sets, results, etc.
2-way Dropbox synchronization is available for more convenient file access Optional feature* Currently in development**